14 Days Vietnam School Tour 'The Amazing Race'
HO CHI MINH - SAIGON - MEKONG DELTA - HOI AN - HANOI - HALONG BAY
Enjoy 14 days discovering the highlights of Vietnam in a highly active way, while taking part in a community project and interacting with local Vietnamese people! Commencing in Ho Chi Minh City, this school trip traverses the length of the country, from Southern to Northern Vietnam. The itinerary features amazing-race-style exploration around Ho Chi Minh City, eco-tours in Hoi An where students will participate in farming activities and an immersive homestay, community projects, sightseeing, and more! Our Vietnam school tours have a heavy focus on cultural immersion, and feature as many opportunities as possible to take part in daily local life. Finish the trip by cruising the picturesque waters of UNESCO World Heritage Halong Bay.
Trip code : VNST02
Duration : 15 days
Destination : Vietnam
Travel Dates : As required
Experience the Mekong Delta by boat
Form teams to compete in The Amazing Race around Ho Chi Minh City
Spend time with less fortunate children of the Mekong Delta (contribute to community projects such as building classrooms)
Visit the unique Cai Be floating market - see rice-paper and coconut candy being made
Stay in the picturesque cities of Hanoi and Hoi An
Explore Vietnamese history, war, military and art museums
Interact with local people and culture
Join in a fun traditional Vietnamese cooking class in Hoi An
Participate in local farming activities on an organic farm and cycle through the rice paddies
Enjoy a hands on experience of traditional net fishing with local fishermen
Kayak among the hidden bays and caves of Halong Bay
&nbsp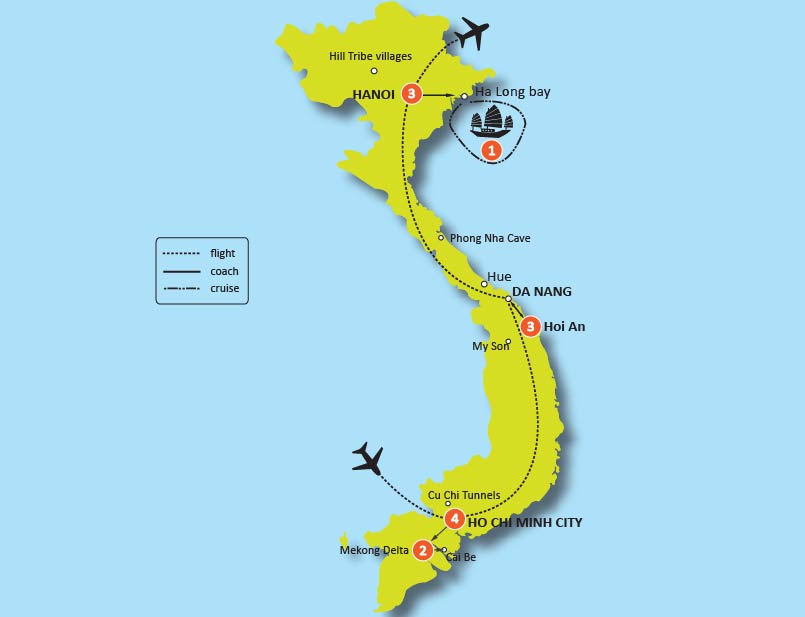 All international airfares with Singapore Airlines
Vietnam Visas
All Transfers in private air-conditioned vehicle
All accommodation in 3-star PLUS hotels
Option of accommodation at Mekong Eco-Lodge or Mekong Homestay
Services of a dedicated Tour Director
Professional Driver and English speaking Tour Guide
Domestic Flights between Ho Chi Minh and Da Nang, Danang and Hanoi in Economy cabin.
1 Night on Halong Bay Private Cruise
Hoi An Cooking Class
Pre-paid tips
Entrance Fees at monuments
Sightseeing as per itinerary
Water during the tour
12 Breakfasts (B), 11 Lunches (L), 12 Dinners (D)
ITINERARY OPTIONS:
Ideal for ages 13-21
PARTICIPANTS WILL NEED:
Good level of fitness
Strong interest in chosen subject
Engaging outdoor activities/learning
Keen to try local cuisine
Sense of adventure
Competent swimming ability
COMMUNITY SCHOOL PROGRAMS
These programs include: building houses, school rooms and kindergartens for communities. Other activities include visiting orphanages, children's hospitals and disability/rehabilitation centres.
DURING THE TOUR:
Our local English speaking tour guide and drivers are highly trained and experienced, with safety being their number one priority. Our staff are available 24/7 to provide any necessary support for your group. We guarantee students to always be located within the same area in hotels.
Please contact us on +61 8 7226-1898 or 1300 739 652 for the price.
Price depends on the below:
- Projects your group would like to participate
- Desired outcome/Learning objectives for students
- Accommodation level
- Travel date
- Group Size
- Duration of the tour
- Sightseeing
You must have a valid passport and a visa (or pre-approval for a visa on arrival or a visa exemption certificate) to enter Vietnam. Your passport must be valid for six months beyond your planned stay, and you must have at least one blank visa page.
Some travellers with e-visas have reported having to pay a second visa fee on arrival because of differences between their passport and e-visa application. Make sure you correctly enter your details when applying. Print a copy of your application and carry it with you.
If you're planning to stay longer than 30 days or require multiple entries, you'll need to apply for a visa directly from the nearest Embassy or Consulate of Vietnam. Complete the visa application form online, then print it and take it to the nearest Embassy or Consulate of Vietnam. If you arrive in Vietnam with a written approval letter for a visa to be issued on arrival, you'll need to pay the fee in cash, either in US dollar or Vietnamese dong. Check whether you will require a single entry or multiple entry visa.
If your spouse or parent is a national of Vietnam, you can apply for a visa exemption certificate. The certificate is valid for five years and allows multiple entries into Vietnam for up to six months.
If your visa expires or is otherwise no longer valid, you will face delays and fines when leaving.
You cannot change the status of your entry visa (such as tourist visa or spouse visa) to any other visa type (such as a working visa) in-country.
To obtain a visa extension from the Vietnamese immigration authorities (including for overstaying your visa), your passport must have at least six months validity remaining at the time of application.
There are value and quantity restrictions on the import and export of prescription medicines.
And 'addictive medicine' (used for the treatment of addiction). Prescriptions and medicines must be shown to customs.
Vietnam has health screening for all inbound travellers. All foreigners must register their place of residence with the local police within 24 hours of arrival. The Australian Embassy and Consulate-General can't provide translation services to assist with registration.
If you stay at a hotel, confirm you'll be registered as part of the normal check-in process. They'll need your passport details.
Many hotels ask foreigners to leave their passport with hotel staff for registration purposes. It isn't a legal requirement for hotels to retain your passport for the duration of your stay.
If you stay with family, friends or in another private residence, you'll need to register at the local police station, with a translator if needed.
Local hosts need to pre-register foreign guests – if you stay in a private residence, make sure your host has satisfied this legal requirement.
By law, you must use only one passport for your entry, exit, transit and residence in Vietnam.
Make sure your passport is valid for at least six months after the date you intend to return to Australia. If your passport has less than six months, validity, you could be refused, or may not be permitted to board your flight.
Your passport is a valuable document and attractive to criminals who may try to use your identity to commit crimes. Always keep it in a safe place.