16-DAY VIETNAM & CAMBODIA SCHOOL TOURS
HANOI - HALONG BAY - HUE - HOI AN - HO CHI MINH - MEKONG DELTA - CU CHI - SIEM REAP - ANGKOR THOM & ANGKOR WAT TOUR
This student tour in Vietnam and Cambodia is an eye-opener for students, with a heavy emphasis on community service projects and social justice issues; the itinerary allows for a high degree of cultural immersion into the daily life of those in impoverished regions. Students will participate in community service projects and volunteering activities, giving back to disadvantaged communities across some of the most poverty stricken regions in each country. The school trip will facilitate learning through sightseeing and hands on educational activities, such as visiting Vietnamese history, war, and military museums, exploring the ancient temples of Angkor Wat, and visiting traditional Khmer houses in Cambodia to chat to Siem Reap locals. This is a well rounded itinerary aimed at global learning.
Trip code : TWSCS1631
Duration : 17 days
Destination : Vietnam
Travel Dates : As required
Explore the Cu Chi tunnels, a remnant of the Vietnam War
Experience the Mekong Delta by boat (including the unique Cai Be floating market)
Visit the Birla Children's village in Hanoi and spend time with orphaned children
Stay in the picturesque cities of Hanoi and Hoi An
Discover the UNESCO World Heritage site of Ha Long Bay (and stay overnight)
Daily Tai Chi sessions
Interact with local people and culture
Join in a fun traditional Vietnamese cooking class in Hoi An
Visit the mystical temples of Angkor Wat
Explore a floating village in Cambodia
&nbsp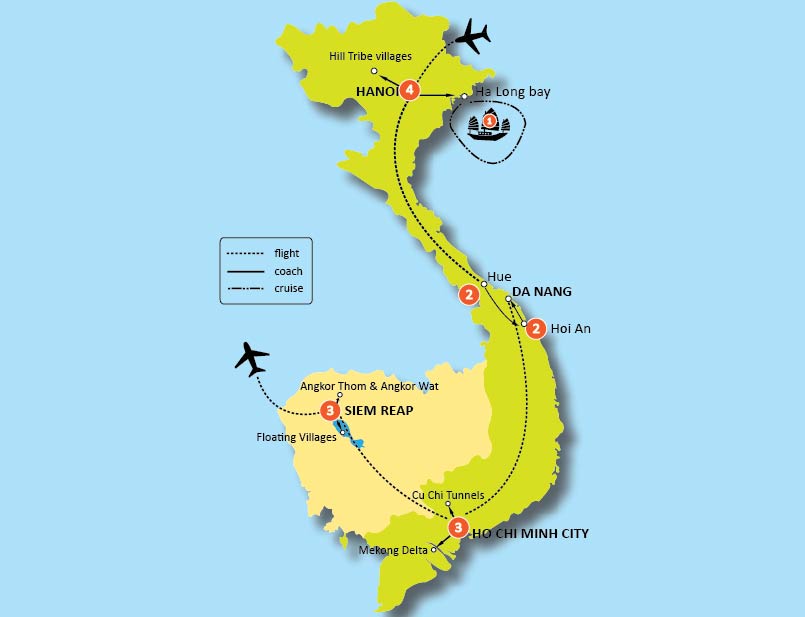 Price includes:
Vietnam and Cambodia Visas
All international flights
Economy class flights within Vietnam
All touring in air-conditioned vehicles
All transfers in private air-conditioned vehicles
Entrance fees at monuments
Sightseeing as per itinerary
Drinking water during the tour
Services of a dedicated Tour Director
One night on-board a Halong Bay cruise
Locally based professional driver, English speaking tour guides
Meals as per itinerary
Prepaid Tips
Accommodation rating as per your request
Unique experiences:
Explore the Cu Chi tunnels, a remnant of the Vietnam War
Visit the unique and colourful Cai Be floating markets
Visit ancient sanctuaries, ruins, temples, tombs and pagodas
Stay in the picturesque cities of Hoi An and Hue
Discover the World Heritage Sites of Halong Bay and Angkor Wat
Stay overnight in Halong Bay on-board a junk boat
Explore Vietnamese history, war, military and art museums
Interact with local people and culture
Explore stately Hanoi
Hoi An country life experience
Participate in exciting community service projects in Siem Reap
Community service:
Our tours facilitate community service projects and volunteering activities to disadvantaged communities in some of the most poverty stricken regions in the country. These programs include: building houses, school-rooms and kindergartens for the poorest communities in desperate need of support.
Other activities include visiting orphanages, children's hospitals and disability/rehabilitation centres. These activities provide students with a deeper understanding, allowing them to witness first-hand the human face of poverty and individual hardship rarely seen at home, as well as the life-changing opportunity to make a real difference in the lives of these communities.
Please contact us on +61 8 7226-1898 or 1300 739 652 for the price.
Price depends on the below:
- Projects your group would like to participate
- Desired outcome/Learning objectives for students
- Accommodation level
- Travel date
- Group Size
- Duration of the tour
- Sightseeing
You must have a valid passport and a visa (or pre-approval for a visa on arrival or a visa exemption certificate) to enter Vietnam. Your passport must be valid for six months beyond your planned stay, and you must have at least one blank visa page.
Some travellers with e-visas have reported having to pay a second visa fee on arrival because of differences between their passport and e-visa application. Make sure you correctly enter your details when applying. Print a copy of your application and carry it with you.
If you're planning to stay longer than 30 days or require multiple entries, you'll need to apply for a visa directly from the nearest Embassy or Consulate of Vietnam. Complete the visa application form online, then print it and take it to the nearest Embassy or Consulate of Vietnam. If you arrive in Vietnam with a written approval letter for a visa to be issued on arrival, you'll need to pay the fee in cash, either in US dollar or Vietnamese dong. Check whether you will require a single entry or multiple entry visa.
If your spouse or parent is a national of Vietnam, you can apply for a visa exemption certificate. The certificate is valid for five years and allows multiple entries into Vietnam for up to six months.
If your visa expires or is otherwise no longer valid, you will face delays and fines when leaving.
You cannot change the status of your entry visa (such as tourist visa or spouse visa) to any other visa type (such as a working visa) in-country.
To obtain a visa extension from the Vietnamese immigration authorities (including for overstaying your visa), your passport must have at least six months validity remaining at the time of application.
There are value and quantity restrictions on the import and export of prescription medicines.
And 'addictive medicine' (used for the treatment of addiction). Prescriptions and medicines must be shown to customs.
Vietnam has health screening for all inbound travellers. All foreigners must register their place of residence with the local police within 24 hours of arrival. The Australian Embassy and Consulate-General can't provide translation services to assist with registration.
If you stay at a hotel, confirm you'll be registered as part of the normal check-in process. They'll need your passport details.
Many hotels ask foreigners to leave their passport with hotel staff for registration purposes. It isn't a legal requirement for hotels to retain your passport for the duration of your stay.
If you stay with family, friends or in another private residence, you'll need to register at the local police station, with a translator if needed.
Local hosts need to pre-register foreign guests – if you stay in a private residence, make sure your host has satisfied this legal requirement.
By law, you must use only one passport for your entry, exit, transit and residence in Vietnam.
Make sure your passport is valid for at least six months after the date you intend to return to Australia. If your passport has less than six months, validity, you could be refused, or may not be permitted to board your flight.
Your passport is a valuable document and attractive to criminals who may try to use your identity to commit crimes. Always keep it in a safe place.