9-DAY JAPAN HIDDEN GEMS SCHOOL TOUR
While many Japan school tours hit the main tourist cities, this school trip will focus on Japan's many hidden gems; the itinerary is focused on digging beneath the surface to uncover genuine and heart-warming hospitality, vibrant and unique festivals, delicious regional delicacies and the most refined gardens and architecture in the country. With comprehensive sightseeing, agricultural experience and cycling in Shimanami, your students will expand their understanding of different world cultures as they experience the many facets of Japan first hand. This student tour in Japan will contrast city living with rural life, starting with Tokyo sightseeing, and ending with a fruit picking experience with farmers who still use ancient techniques to cultivate the land.
Trip code : JB4351TW
Duration : 10 days
Destination : Japan
Travel Dates : As required
Discover the dynamic city of Tokyo old and new
Experience a fun dyeing project with the famous indigo dye
Enjoy the scenic vistas and natural attractions of Oboke, Koboke, and Lya Valleys.
Sample amazing local dishes in Hirome Ichiba
Pick your own fruit at at a Taisho period farm
Visit on of Japan's finest gardens Takamatsu Castle​
&nbsp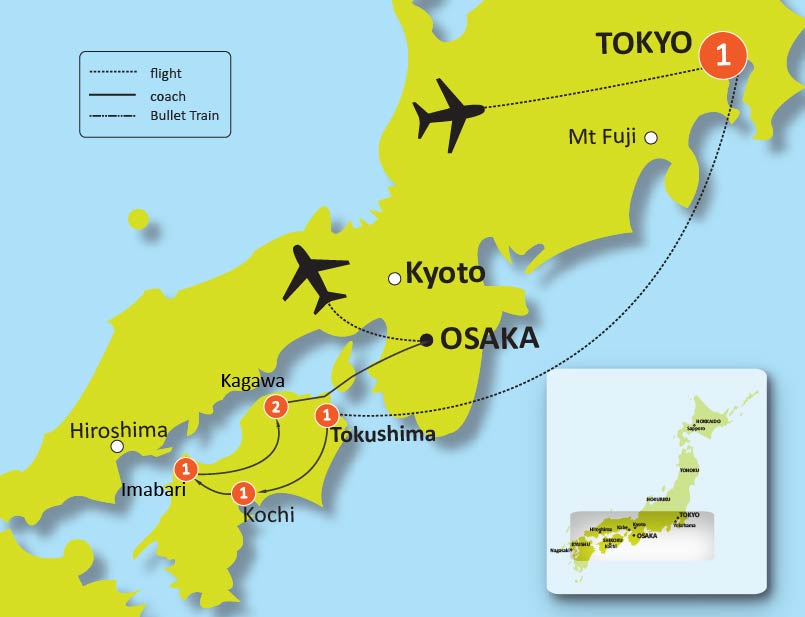 ITINERARY OPTIONS:
EXPLORER: Take your group on a fun and relaxes overseas trip to witness the local culture and history rarely seen at home. Including a little adventure or meaningful community projects. Our itineraries include cooking classes, war history, museums, nature experience, etc.
Ideal for ages 13 - 21
PARTICIPANTS WILL NEED:
Good level of fitness
Strong interest in the chosen subject
Engaging outdoor activities/learning
Keen to try local cuisine
Sense of adventure
Competent swimming ability
COMMUNITY SCHOOL PROGRAMS
These programs include: building houses, school rooms and kindergartens for communities. Other activities include visiting orphanages, children's hospitals and disability/rehabilitation centres.
DURING THE TOUR:
Our local English speaking tour guide and drivers are highly trained and experienced, with safety being their number one priority. Our staff are available 24/7 to provide any necessary support for your group. We guarantee students to always be located within the same area in hotels.
Please contact us on +61 8 7226-1898 or 1300 739 652 for the price.
Price depends on the below:
- Projects your group would like to participate
- Desired outcome/Learning objectives for students
- Accommodation level
- Travel date
- Group Size
- Duration of the tour
- Sightseeing
If you're visiting Japan for tourism and for less than 90 days, you could qualify for a 'visa waiver'. Japan's Visa Waiver Program is strictly enforced. To qualify, you'll need to provide evidence of sufficient funds and an onward/return ticket or confirmed accommodation arrangements.
In other circumstances (long-term stay, study, employment) you'll need to get a visa before you travel. Make sure you understand and comply with your visa conditions.
Some unscrupulous employment agents entice foreigners to work in Japan without the correct visa. If you work while in Japan on a tourist visa, you could be prosecuted.
Visa and other entry and exit conditions (such as currency, customs and quarantine regulations) can change at short notice. Contact an Embassy or Consulate of Japan for up-to-date information.
All foreign nationals, including permanent residents of Japan, are photographed and must have their fingerprints electronically scanned on arrival in Japan. If you refuse to provide fingerprints or be photographed, you could be denied entry into Japan. People under 16 years of age and holders of diplomatic or official visas are exempt.